Home >
Our Services
Our Services
Printing
Infix Advertising provides excellent and outstanding digital indoor and outdoor printing work. From Portable Display Systems to Posters, Floor Graphics, Large Format Banners and even graphics for Unipoles and Minipoles, Infix is fully capable to give high-quality print work.
» Learn more..
Exhibition
From concept and design up to the actual production, Infix offers clients the best in exhibit booth design and production. Assisted by the most modern machines on indoor and outdoor digital printing and CNC Router, Infix translates even the most complex designs and shapes into beautiful and unique exhibit booths that will surely capture the interest of your market and make your company or brand stand-out.
» Learn more..
Signage
With Infix Advertising's own Signage System, you are assured of a high-standard, practical and cost-effective signage for your business. We are capable of doing Backlit Signs, Commercial Signs and even Traffic and Directional Signs.
» Learn more..
CNC
When you have a complex design vision that you want actualize, trust Infix Advertising's CNC (Computer Numerical Control) Division to do the perfect job for you. Not only does Infix have the most sophisticated CNC Router Systems, we also have some of the best people in the country handling this department.
» Learn more..
Wood Decor
Make your space a beautiful reflection of your creativity and artistry with Infix Advertising's Wood Décor services. Our Wood Decors range from wonderfully designed and produced wall accents and art to exquisitely customized furnitures and fixtures that fit and follow your interior designs.
» Learn more..
Direct printing on Ceramics as showcased in an event in Sahara Mall Riyadh.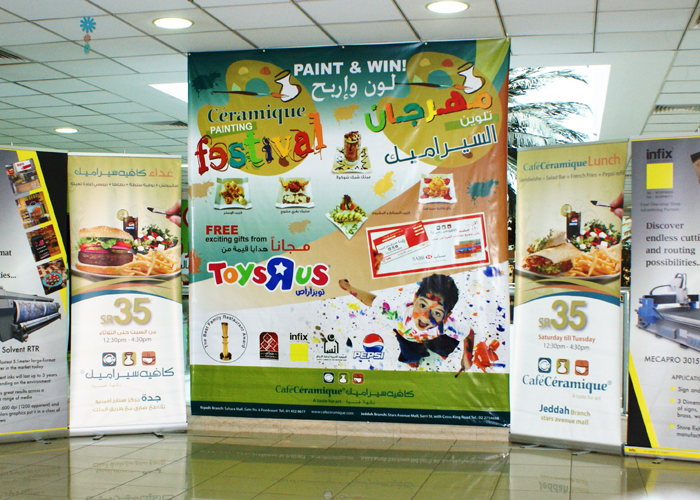 Click on the image to view image description - Infix Advertising