Overview
Infix Advertising is a progressive and dynamic indoor and outdoor printing and production company founded in the year 2000. A member of the Al Rugaib Group, Infix is geared to becoming one of the most trusted and reliable printing companies in the Kingdom of Saudi Arabia.
At Infix, we maintain the level of cost, efficiency, services and quality that our customers have come to expect from us. We have a deep understanding of the industry; we know the importance of scheduling production so that our customer's projects and requirements are delivered on time.
Vision
To be at the forefront of the digital printing industry in the kingdom by continuously adapting to innovation while always keeping in mind the stringent value of experience and technical knowledge.
Mission
To accurately actualize your company's marketing message and designs into brilliant, outstanding and high-quality work.
Our People
Infix Advertising is built on the solid and comprehensive experience and industry knowledge of our team consisting of a good mix of professionals in the fields of Printing, CNC Router, Metal and Wood Working, Exhibition and Sign Systems, giving our company a significant edge over the competition. Our team is output driven and consistently updated about the new trends and technology in printing and production; oftentimes, we're the first ones to take innovation and new technology out for a spin.
Infix Advertising has some of the best indoor printing machines in the kingdom producing outstanding color and quality that makes your designs and artworks stand out.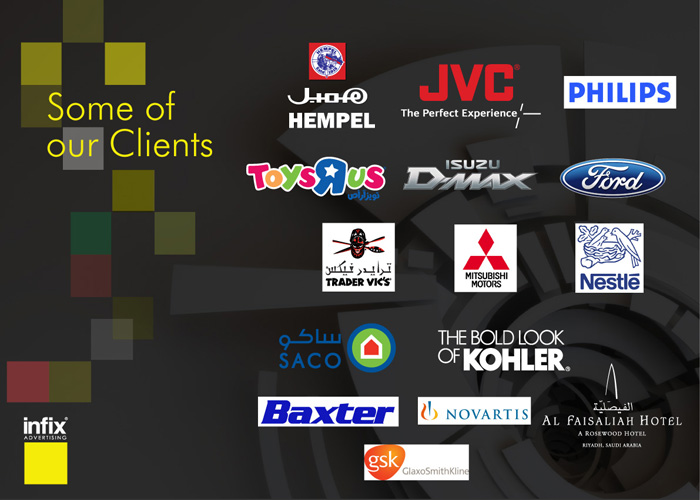 Click on the image to view image description - Infix Advertising